National NSSLHA Presents Stephanie Fleckenstein with 2023 Honors of NSSLHA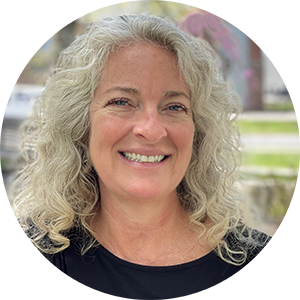 Stephanie Fleckenstein
(ROCKVILLE, Maryland – May 18, 2023) – Stephanie Fleckenstein, clinical associate professor and director of clinical programs, audiology, at the University of Iowa, has been awarded the 2023 Honors of NSSLHA by the National Student Speech Language Hearing Association (NSSLHA), an organization of nearly 11,000 members studying communication sciences and disorders (CSD), speech-language pathology and audiology at the undergraduate, graduate and doctoral levels at college and universities nationwide
The Honors of NSSLHA award is presented annually to a person or organization who, through their work with students, made significant contributions to both the discipline of communication sciences and disorders (CSD) and National NSSLHA. Fleckenstein received the award for her stellar dedication to the University of Iowa and the Wendell Johnson Speech and Hearing Clinic.
In a letter of recommendation for the award, Hailey Kingsbury, an audiology doctoral student and graduate assistant at the University of Iowa, wrote of Fleckenstein, "Stephanie takes on many roles to ensure student success in our clinic, outplacements, and externships. She is a driven, calm, and sincere clinical instructor and professor, and is willing to make change in the field." Kingsbury, who will become president of National NSSLHA in June, also praised Fleckenstein's passion for diversity, equity and inclusion, noting her role as a mentor for the University of Iowa's Anti-Racism in CSD group and her leadership of department-wide initiatives affecting students and patients.
In addition to her role at the University of Iowa, Fleckenstein serves as vice president for audiology for the Iowa Speech-Language Hearing Association. She will be presented with the Honors of NSSLHA award at the 2023 American Speech-Language-Hearing Association (ASHA) convention in Boston this November.
Each year, NSSLHA recognizes outstanding chapters, members, chapter advisors and organizations that serve the CSD community. The University of Iowa's NSSLHA chapter received 2023 Bronze Chapter Honors for attaining a high level of achievement in the areas of member recruitment and engagement, community outreach and service, legislative advocacy and fundraising during the 2022-23 academic year.
About NSSLHA 
The National Student Speech Language Hearing Association (NSSLHA) is the only national student organization for pre-professionals studying communication sciences and disorders (CSD) recognized by the American Speech-Language-Hearing Association (ASHA). Established in 1972, National NSSLHA is headquartered in Rockville, Maryland, and supports nearly 11,000 members and more than 340 chapters at colleges and universities nationwide.